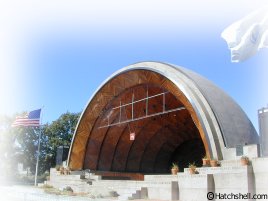 Seating
Allow extra time for entry onto the lawn. Seating is available on a first come first serve basis. Wristbands will be distributed for entry and re-entry.
Please respect the elderly and disabled as well as other event goers.
Security Measures
Bags and coolers will be searched at designated security checkpoints for public safety.
See Let's Go!: Checkpoints for specific MA State Police instructions.
What to Bring
A blanket or tarp (no larger than 10 x 10 ft.) for sitting on the lawn.
Pop up Tents/Canopies with no sides (maximum size 10 x 10 ft.) (No Tents/Canopies allowed on July 3).
Folding beach chairs.
Shoulder-strap or single-handled coolers (nothing with wheels), snacks, and refreshments. Food and refreshments will also be available at the concession stands.
All personal items must be carried in clear bags only.
On July 3rd and 4th all allowable items must be checked and carried through security checkpoints for the Oval and the Island. Seating capacity is limited.
An umbrella or parasol for shade or in case of rain.
Binoculars to make event viewing easier.
Sunscreen.
If you are travelling by public transportation, it saves time to purchase passes in advance.
What NOT to Bring
No glass containers.
No cans
No pre-mixed beverages.
All liquids must be in sealed clear plastic containers not to exceed 2 liters.
No coolers on wheels.
No backpacks, shopping bags, oversized handbags/purses. Small purses permitted and must be placed in clear bag after inspection.
Alcoholic beverages are restricted.
No grills, hibachis or fires are allowed.
No sharp objects, weapons, firearms.
No pets (unless service animal for the disabled).
No bicycles allowed in the Oval or the Island. Bicycles outside of the Oval and Island may not be secured to objects and must not be left unattended or else they may be subject to removal.
No drones.

Boating Guidelines
Marked Safety Zone: Vessels must anchor and remain 100 feet from shore and 1000 feet from fireworks barges See maps.
Red Zone: East of fireworks barges. Vessels 13ft. and greater
Blue Zone: West of Massachusetts Ave. bridge
Vessels with height of over 12ft. will not clear drawbridge and must remain upriver of Longfellow Bridge after fireworks
Discharge of boat sewage is prohibited. Designated pump-out facilities are located at the Charles River Yacht Club and Watertown Yacht Club
The lagoons on the Boston side of the river are closed to ALL boat traffic from June 28 to July 5.
All docks, including Union Boat House Dock, Hatch Shell Dock, and the Fiedler Statue Dock, will be closed to the public from June 28 to July 5.
The Gloucester Street Dock and temporary docks (along Boston side of the river) near Dartmouth Street, are for dingies only from June 28 to July 5.
Boats are not allowed to dock between the Massachusetts Avenue Bridge and Longfellow Bridge from June 28 to July 5.
Handicapped Access:
Disabled persons may enter the designated area accompanied by guest with folding chair. Space is available on a first come first serve basis until 6pm. See maps.
Disabled parking available at Mass Eye and Ear Infirmary on July 4th. Lot can be accessed by entering Storrow Drive outbound from Leverett Circle and exiting at the Charles Circle off-ramp. Entrance at far left of the ramp. Handicapped plate/placard required. Shuttle runs from 3-6pm on July 4th until lot is full and will return event-goers to lot at the end of the show. MBTA The Ride customers will have priority on the Shuttles; seating is limited.
Restrooms
Restrooms, portable restrooms, and handicapped restrooms are available. See maps.
July 4th: Parking Restrictions and Road Closures